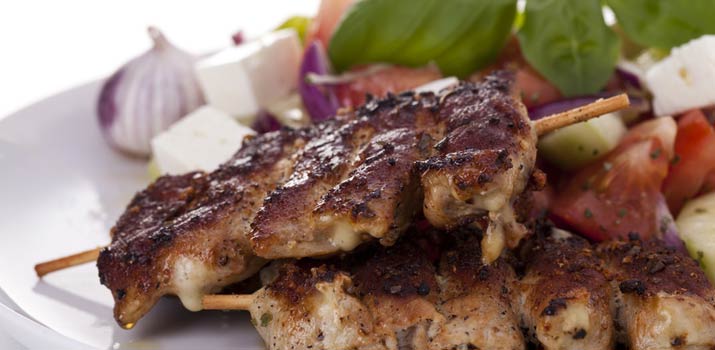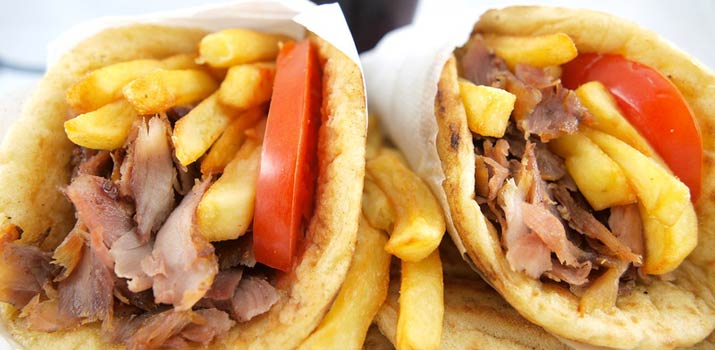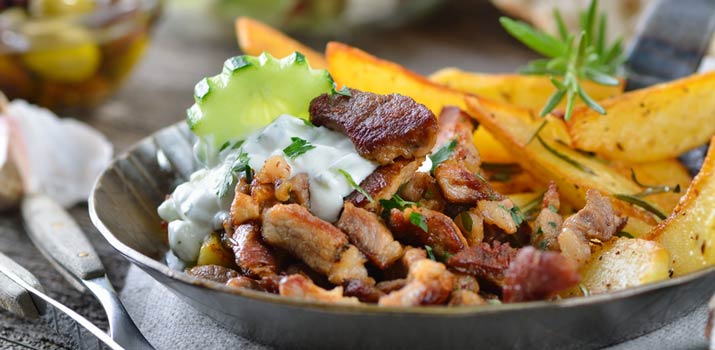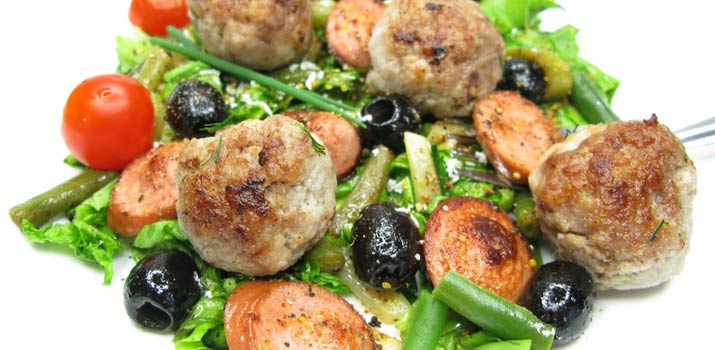 Mediterranean Specialties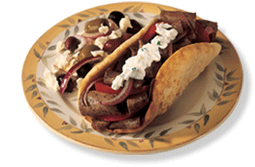 Greece is not only the birthplace of Democracy and Philosophy, but Greeks brought us a profound love of food..
The Mediterranean Sea, the soil and abundant sunshine yields a harvest of olives, herbs grains and vegetables that are the heart of Greek cuisine. The traditional Greek diet uses meat sparingly, making Greek dishes both flavorful and healthy. Rochester Meat Company, now known as RMC Food Services, is the number one distributor of Grecian Delight Foods and carries an extensive line of Mediterranean specialties that cater to the restaurant, fast food and on-site food service operations in colleges, hospitals and business cafeterias. The Mediterranean foods category is a billion dollar category of the food industry and is projected to grow 50% in the next ten years! Let Rochester Meat Company provide you with menu solutions that are fast, healthy and simple to prepare.
We carry a complete line of gyro supplies, including portion controlled gyro loaves, gyro slices, gyro portions and IQF gyro strips. Coupled with our extensive array of fluffy, delicious pita breads, Rochester Meat Company / RMC Food Services has everything you need to add the most requested new cuisine to your menu.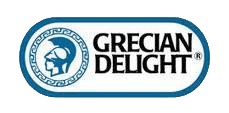 Below, you will find a partial list of our extensive line of Mediterranean specialty items, from savory spanakopita, memorable moussaka and our own Mediterranean Patties, to tempting baklava – all available to you every day. Rochester Meat Company / RMC Food Services is your gateway to the Mediterranean.

Please contact us for more information and to place your order.
Mediterranean Specialties

GYRO CONES
GYRO LOAF
SLICED COOKED GYRO
CHICKEN GYRO LOAF
CHICKEN GYRO SLICED
LOUKANIKO
GYRO KEBOBS
MEDITERRANEAN PATTIES
MOUSSAKA
PASTICHO
SPANAKOPITA
TYROPITA
7" PITA BREAD
9" PITA BREAD
TZATZIKI SAUCE
DOLMADES
BAKLAVA
FILLO DOUGH
KAITAIFI
SEMOLINA
PEPPERONCINI
TAMARA
LARGE OLIVES
SMALL OLIVES
MALAMA EXTRA VIRGIN OLIVE OIL
MALAMA 100% PURE OLIVE OIL
LAKONIA OLIVE OIL
OLIO VILLA OLIVE OIL
TAHINI
BALSAMIC VINEGAR

Spices

ALLSPICE
BASIL LEAVES
GROUND CINNAMON
GROUND CUMIN
DILLWEED
GRANULATED GARLIC
ITALIAN SEASONING
GROUND NUTMEG
GRANULATED ONION
OREGANO
PAPRIKA
GROUND BLACK PEPPER
GROUND WHITE PEPPER
PARSLEY FLAKES
CRUSHED RED PEPPER
RED CAYENNE PEPPER



Specialty Pastas

KRITHARAKI (ROSEMARINA)
SPAGHETTI FOR PASTICHO
SPAGHETTI