Who We Are - RMC Food Services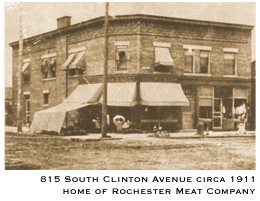 In 1975, when Steve Tasikas started Rochester Meat Company, now known as RMC Food Services, they purchased a building at the corner of South Clinton Avenue and Meigs Street in Rochester, New York. They became heirs to a long standing tradition, as the facility had been a butcher shop, smoke house and and a grocery store since the 19th century.
Their reputation for quality products and "whatever it takes" customer service grew quickly. Over the next few years they modernized and updated meat handling facilities and expanded their business to include not only a complete line of fresh and frozen meat products, but a full complement of Mediterranean Foods.
Today, the next generation of the family is at the reins, and the business has grown from servicing a few restaurants in Rochester to a distribution network that covers western New York and northwestern Pennsylvania with overnight service. Rochester Meat Company / RMC Food Services is also the largest distributor of Grecian Delight Foods and other Mediterranean products in upstate New York. They plan to continue their tradition of quality, service and affordable pricing into the future with their complete line of meat products, including fresh and frozen portion control products, marinated and flavor enhanced portions meats, custom cut portion control program, their famous ground beef and sausage, and their unique flavored patties.